7/29/98

(10/26/99 Note: Two Buddah is the fictional character created by Scott Abraham. Two Buddah was the self-appointed leader of the now defunct Holy Church of Vail™.)
Two days with TB at Timberline
The Mountain comes to the mountain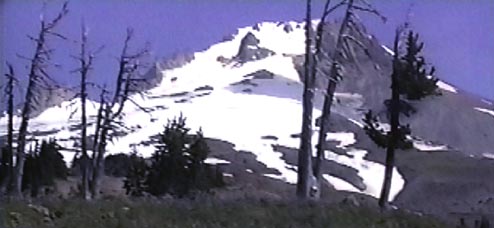 Sunday morning: I luck out and find a standby United Shuttle seat and fly from San Francisco to Portland. TB says he'll be there about 9 PM to pick me up and drive the 45 miles to Timberline. 8 hours to kill at an airport, and it's 100 degrees outside. Great start to a ski trip! I settle into United's Red Carpet Club and check the Internet for places to stay at Mt. Hood. The Timberline Lodge's reservation desk is closed Sundays. The Mt. Hood Lodge in Government Camp has an 800 number: okay, we got a room only 6 miles from the ski area.
Sunday 9 PM: Wandering around the airport, having been kicked out of the Red Carpet Club at 7. TB rings me up to tell me that he's in Olympia with a blown tire, and none of the service stations has a replacement (this guy has more car trouble than anyone). There goes my ride. Off I go to get my bags out of storage, load up like a pack mule (did I really need to bring the PowerBook?), pick up a rental car and drive to Mt. Hood. It's now 11 PM, I'm at 4000 feet, and it's still hot as blazes. The snow conditions must be awful with this heat.
Monday 7:30 AM: The Timberline parking lot's pretty full, so I'm not the only fool skiing today. It must already be about 80 degrees here at 6000 feet. I can see the Palmer snowfield, the only skiable area on the mountain. It looks really dinky and flat. What was I thinking? Oh well, at least I can say I skied at the end of July -- a first for me. Everyone's wearing race spandex. They must be here for the racing camps.
As I ride the chair from the lodge, the Palmer snowfield begins to loom larger. What looked like a snow fence from below are actually chair lift towers. Big ones, at least 40 feet high. Each lane of the snowfield is about 50 yards across, and there about 20 lanes. The pitch isn't much, but at least it's more than it seemed from below. One bit of luck: there's not a snowboarder to be found! Maybe they don't get up this early [Ed Note: I have nothing against snowboarders per se, but they can be annoying to maneuver around in tight quarters.]
First run of the day. The snow's pretty decent, soft but not sloppy. I've got my Snow Rangers on, great for plowing through this wet snow. It's been 6 weeks since the last ski trip, so I'm a little wobbly. Phew! This is a long run! The trail map says it's 1500 foot vertical. The pitch is constant, maybe 20-25 degrees. Must be at least a mile long, and there's no reason (other than fatigue) to stop along the way. It's hard to gauge distance on this treeless volcanic mountain. It's taken me a couple of runs, but now I have my ski legs back. Glad that they came back so quickly.
Monday 10 AM: TB calls me on my cell phone. He's still in Olympia, but his car is fixed. We agree to meet at 1 PM at the Mt. Hood Lodge. I've been skiing nonstop for two hours now, since the lift lines are so short. My water bottle's empty, it's getting even hotter, and the busloads of snowboarders have just arrived. That's all the excuse I need to stop for the day. Let's check out the Timberline Lodge. Very pretty building, built during the Depression. Average annual snowfall at the Lodge is 30 feet, but it's completely dry now. I'll have to bring Mary up here for a romantic weekend. I'll bring my skis along, of course. Combine a little romance and skiing in the same trip. Too bad it's so smoggy today. The view must be amazing when it's clear. I stop into the Timberline's dining room and make dinner reservations for two at 7.
Monday 1 PM: Back in my room. The Lodge marquee on the highway says it's 85 degrees. A cold shower and a change of clothes help a little. A thunderstorm rolls in, bringing a torrent of rain that lasts about 20 minutes. Now the Lodge marquee reads 67 degrees. Just what the doctor ordered. I hope the rain didn't mess up the snow too much. No sign of TB yet. Guess I'll get some work done. Good thing I brought the PowerBook after all.
Monday 3 PM: TB arrives, hot and dirty. Changing a tire, sleeping in a field in Olympia, and driving through 100 degree heat without air conditioning will do that to a man. Doggie's looking cute as ever, sporting a short haircut for the Summer. She still insists on getting butt rubs, and I oblige. Since I had so much time to kill at the airport, I did some gift shopping. For Doggie, a tee shirt that says "Super Dog". For TB, a baby buffalo named Biff on a key chain ("biff" is the sound TB makes when he falls in soft snow).
TB suggests we play tourist and drive down to the Gorge. It finally cools off here, and now he wants to drive back down into the heat! All right, we'll take my rental car -- the one with air conditioning. It's a pretty drive along the Hood River. Lots of orchards and rolling hills. It looks like Northern California. There's almost no wind in the Gorge, due to the oppressive heat wave. We can't linger long, though. There's haute cuisine waiting for us at the Timberline.
Monday 7 PM: The Timberline dining room windows look out on the vast landscape surrounding the mountain. Our waiter is a snowboarder, so TB delights in poking fun at him. I'm formulating a theory that snowboarding ruins a person's ability to walk, as they always seem to be in a constant state of stumbling. I'll have to watch others to check out this theory. The sunset should be pretty, even with this haze.
Dinner is great. Two appetizers to start with: Salmon gravlax, lightly smoked and crusted with dill; Swiss raclette with new potatoes and pearl onions. TB says the raclette needs more time under the broiler -- the cheese should be crispy brown all over. I don't know much about that, it tastes pretty good to me. My entree is just as tasty: grilled salmon with wasabi and fresh vegetables. I'll recommend this place to our friends who like to dine and don't balk at $20 entree prices.
Monday 10:30: After gorging ourselves at the Timberline, we head back down the hill. There's a brew pub attached to the lodge, and TB wants to check out the single women there. That idea doesn't hold much interest for me, but maybe I'll try one of their local beers. Nice place, but there are only about 6 people in there. TB won't be adding another notch to his belt tonight, but I enjoy their local Hefe Weizen brew.
Tuesday 6 AM: Up early to get the best snow. We make it to the Timberline parking lot by 7. It doesn't seem as hot today. TB has been bragging that everyone wants to steal his Morrison skis, so I decide to play a little trick on him. While he's in the shop buying gloves, I hide his skis behind the soda machine. The look on his face when he thinks his skis are stolen: priceless. I let him off the hook almost immediately. I don't want a crabby ski partner.
The snow's firmer today than yesterday, possibly because of the rain. TB appreciates the firmer snow, but I'm not as delighted. Skinny guys like me on fat Snow Ranger skis want soft snow. I'll get my wish later, after the surface has warmed up. After a couple of runs, TB takes a spill and slides several hundred yards. 290 pounds sliding fast down a slick slope is something to behold. Note to self: stay uphill of TB at all times.
We poach one of the racing lanes that's not being used. I get some video of TB skiing, which I must post to the web as soon as I figure out how. TB's feeling pretty wiped out by the fall, so he takes a break while I take a couple of runs. I'm holding my own, skiing alongside these racers. Almost everyone here is really good. I'm usually one of the better skiers on a mountain, but today I'm just average in comparison. They're fast, but I have to wonder how they'd do in wild snow conditions.
Tuesday 10 AM: The snowboarders have descended, the lines are getting long, and TB is wiped out. Time to head back, clean up, check out, and head for the airport.
Tuesday 3:30 PM: My luck holds out again and I get onto a flight back to San Francisco. Mt. Shasta looks great from the plane, loaded with snow all the way down to timberline. There must be some great descents on that mountain. You can tell the skiers on the plane. We're the ones staring at every snowfield we pass over. The plane lands on time and I head to pick up my bags. Standing in front of me is a girl in a tee shirt and shorts, with long reddish hair in corn rows. She looks familiar. I notice she has a scar running all the way down the outside of her left leg. It's Picabo! A fitting end to a July ski trip.
---
Video Animations
We shot some video while skiing with Scott (TB). Here is my first attempt at posting an animated ski video (I promise to get better at this in the future):
[old attempt at animation deleted, see below]

Here is a much improved movie, complete with sound and titles, edited in 2001:
QuickTime (4.2 MB)
AVI (Windows format, bigger and uglier, 25 MB)